"Unesco Artist for Peace"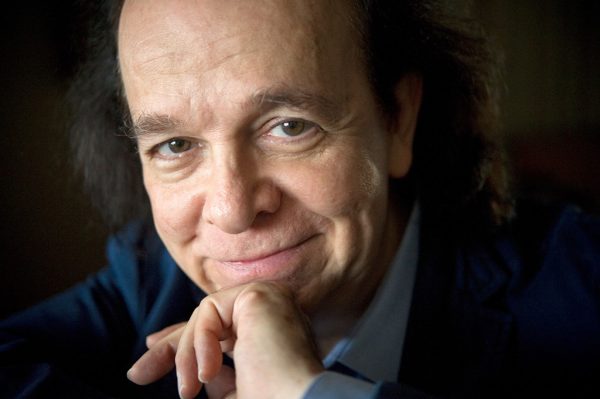 "A strong personality with glittering fingers… He has a strong musical profile that places him in a category far above that of conventional performers of the international school of modern piano" (excerpt from the book by New York Times music critic Harold C. Schonberg. The Great Pianists: From Mozart to the Present (New York: Simon & Schuster, 1987).
The French-Cypriot pianist and composer Cyprien Katsaris (Kyprian Katsaris) was born in Marseille. He won prizes in the following international competitions: the Cziffra, First Prize, Versailles (1974) – Reine Elisabeth, Brussels (1972) – Rostrum-UNESCO Young Performers' Competition, Bratislava (1977) etc.
He has performed with leading orchestras, such as: Berlin Philharmonic, Staatskapelle, Dresden, Concertgebouw Amsterdam, Gewandhaus Leipzig, Philharmonia (London), the Philadelphia Orchestra, The NHK Symphony Orchestra (Tokyo), Moscow Philharmonic Orchestra, Cleveland, Washington D.C., Detroit, Montréal, Toronto and others. He has worked with famous conductors such as Leonard Bernstein, Kurt Masur, Eugene Ormandy, Myung-Whun Chung, Sir Simon Rattle, Mstslav Rostropovich, Charles Dutoit, Nikolaus Harnoncourt, Christoph von Dohnanyi, Kent Nagano, Karl Münchinger, etc.
He has collaborated with the most prestigious record labels Teldec (Record of the Year Award, Germany, 1984 – Grand Prix du Disque Franz Liszt, Budapest, 1984 and 1989 – Grand Prix du Disque Frédéric Chopin, Warsaw, 1985 – British Music Retailer's Association's Award, 1986), Sony Classical, Deutsche Grammophon, EMI, BMG-RCA, Decca, Pavane, etc. In January 2001, he founded his personal record label Piano 21. The prestigious French music magazine Diapason ranks him among the best pianists of the twentieth century.
In 1992 the Japanese television NHK TV devoted a series of thirteen programmes to his masterclasses and recitals of Frédéric Chopin's works. On 17 October 1999 he gave a recital at Carnegie Hall, New York, to mark the one hundred and fifty year anniversary of Frédéric Chopin's death. In 2006 Kyprianos Katsaris was the first pianist to teach marsterclasses at Franz Liszt's home in Weimar, since the composer himself last taught there in 1886. In August 2008 he gave two concerts at the National Centre for the Performing Arts, in the framework of the Beijing Olympics.
From 1977 to 2007 he was Artistic Director of the Echternach International Festival in Luxembourg. He is a member of ADAP, Association of Artists for Peace.
His work has been honoured with the distinctions of Knight of Honour of Cameroun (1975) – Artist of the UNESCO for Peace (1997) – Knight of Arts and Letters of France (2000) – Vermeil Medal of the City of Paris (2001) – "Commandeur de l'Ordre de Mérite du Grand-Duché de Luxembourg" (2009) – Takis and Louki Nemitsas Foundation Prize, Nicosia (2011) etc.