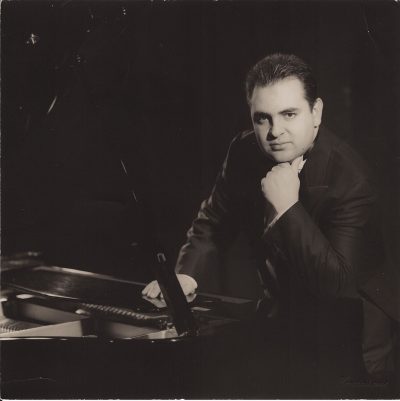 The pianist George Konstantinidis graduated from the State Conservatory of Thessaloniki (class of G. Thimi) and received his diploma with the grade "Excellent unanimously and distinction of First Prize". He continued his studies in Paris with Bernard Ringeissen and Jacques Rouvier, obtaining the diploma of "Excellence" with "Premier Prix" and the diploma of "Perfectionement" with "Premier Prix de Virtuosite". He has won distinctions such as First Prize in the 3rd HELEXPO Chamber Music Competition in 1993 and the Panhellenic Piano Competition in 1998.
He performed as a soloist and with chamber music ensembles in the USA, France, Germany, Italy, Spain, Cyprus, Bulgaria, Romania, Syria and Egypt with orchestras such as the Philharmonia of Greensboro Orchestra, the West Chester University Orchestra, the Philharmonic Orchestra of Bacau, the Philharmonic Orchestra of Ploiesti, the Sinfonia Bucharest Orchestra, the Orchestra of Pazargic, as well as the National Orchestra of Moldavia with whom he collaborated at the Catania International Festival in Italy.
In Thessaloniki he has repeatedly performed at the Megaron Music Hall, with the State and Municipal Orchestras of Thessaloniki, as well as at the Dimitria Festival, collaborating with artists such as Cyprien Katsaris, the International Wind Quartet and the Enesco Quartet.
He is the only Greek pianist who has dealt extensively with the repertoire for the left hand, offering many first national performances. He is a member of the committee of several international competitions and teaches Master Classes at the University of Catania in Italy. He is President of the Association of Graduates of the Conservatories of Thessaloniki, Vice President of the Association of Friends of the Thessaloniki State Orchestra and member of the Board of Directors of the Centre for Music and Dance of the Municipality of Thessaloniki. He was in charge of musical activities at the Vafopouleio Cultural Centre. Since June 2008 he has been a member of the staff of the world-renowned "Academia Internazionale del Pianoforte" based in Como, Italy. He was director of the State Conservatory of Thessaloniki. He is a piano teacher at the Music College and the New Conservatory of Thessaloniki.